Details
Chamber with all the features of our standard second-generation chambers with adaptations to reduce electromagnetic interference and noise.
Our Second Generation Bussey-Saksida Rodent Touch Screen Chambers have been adapted for easy integration with electrophysiology recording. All electronic components have been adjusted to reduce EMC. The sound attenuating chamber is a Faraday cage to prevent outside noise from the surrounding building entering the chamber. The touch screen itself is shielded to reduce noise emission. In addition, there is a slotted lid to accommodate tethers and reward troughs that allow for head-stages. A sliding top shelf on which commutator can be mounted and TTL inputs and outputs to communicate with the electrophysiology recording.
Package Includes
Shielded Touch Screen
Chamber Base with non-shock coated perforated floors
Trapezoidal Walls with solid lid and optional slotted lid
Feeder Reward Area
Liquid or Pellet Feeder (pellet reward requires SAC top shelf)
Speaker
House Light
IR lighting
Activity beams
Mounted on a shelf to slide in and out of sound attenuating chambers
Core Intelli-interface
---
Features
Low emission Electronics
As can be seen in the graphs below, spikes in noise are reduced with the Ephys touch screen chamber electronic components.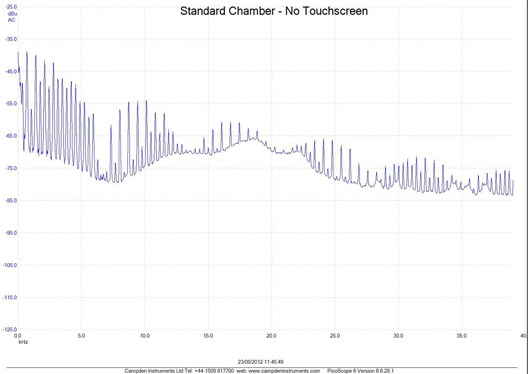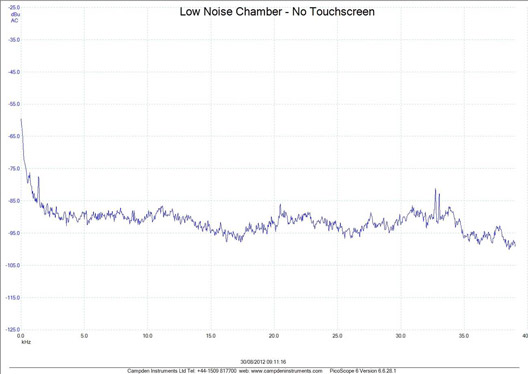 Sound Attenuating Chamber Faraday cage
The graphs below show the typical outside electromagnetic radiation and how it is blocked by the E-Sound attenuating chamber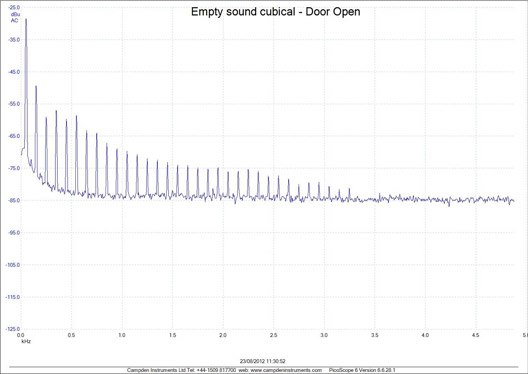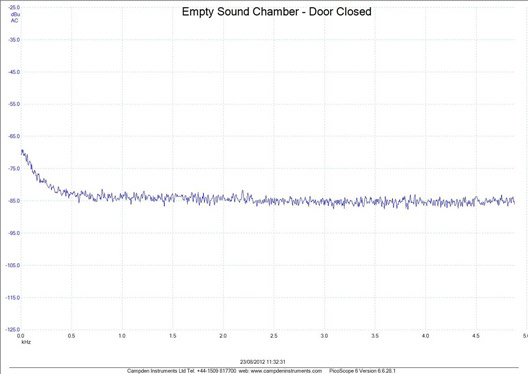 Shielded touch screens
The graphs below show how shielding the touch screens smooths out spikes in emissions.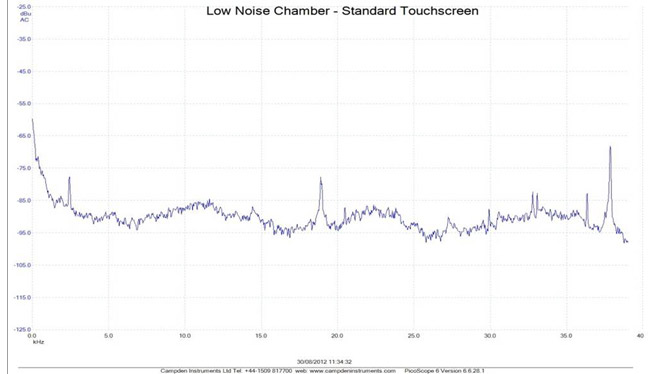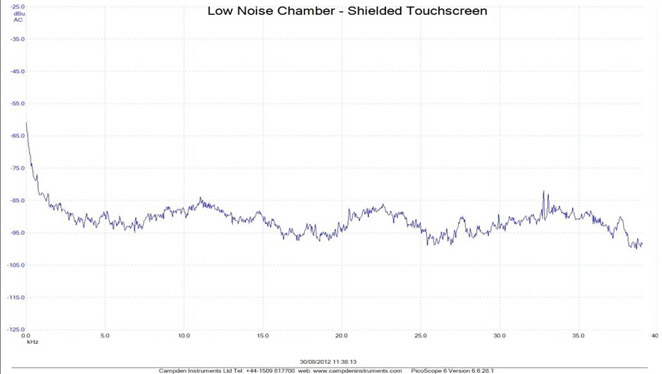 Coated Floor
The floor is coated with a non-conductive coating to prevent artifacts being created from the oscillating ground contact created by the animal's normal motion.
Reward Troughs
Chambers include enlarged reward trough entries to accommodate many head-stages.
Chamber lids
Chamber lids have been updated to include slotted lids for the touch screen chambers to accommodate head-stages, commutators and tethers.
Sound Attenuating Chamber height and shelf
We have raised the height of the sound attenuating chambers to allow longer tethers, as the longer the tether the more flexible it becomes, reducing the pull on the animal's head and consequential fatigue.
Commutators can be mounted on a pull-out top shelf preventing the need for drilling into the sound attenuating chamber. This allows the commutator to be slid out with the rodent chamber, for easy access and to prevent the tether needing extra length when the rodent touch screen chamber is pulled out on its sliding shelf.
Cable access points are available for 3rd party systems.
Custom sized sound cubicles and builds can be quoted to individual requirements.
TTL Lines
TTL inputs and outputs are available to enable ABET Cognition software to communicate with other third-party software such as electrophysiology recording software.