Related Categories
Slice and In-Vitro Electrophysiology > Vibrating Microtomes

5100mz Vibrotome
Model 5100mz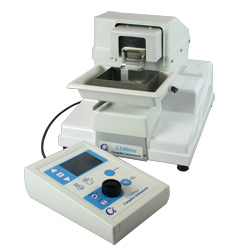 Details
The New 5100mz shares the User interface with the premium 7000smz-2, placing a wide range of adjustable parameters at the user's fingertips:
Vibration frequency from 50 to 80 Hz
Adjustable amplitude from 0.5mm to 1.5mm
Fine control of the blade advance (min. 0.1 mm/sec)
Set start and stop position of blade travel
Control box on umbilical cord ideal for operation in an isolated environment
Use in fully manual or the semi-automated "Slice window" mode which automatically remembers the start and finish position of the slice. This New entry-level Microtome is perfect for techniques such as histology, organotypic slice culture and low resolution imaging with a fixed blade holder and a mechanism Z axis error of ≈ 5-8µm.
Features
Includes the Z-axis calibration unit (5100mz-Plus only)
Vibration frequency from 50 to 80 Hz
Adjustable amplitude from 0.5mm to 1.5mm
Fine control of the blade advance (min. 0.1 mm/sec)
Set start and finish position of blade travel
Remote controls allowing for sterile use in culture hood
Ice water bath easily removed for cleaning
Optional cold light and magnifier for clear observation
Optional Peltier cooled bath
Specifications
Section thickness step size: 0.001 mm
Bath table rise & fall speed: 1.0 mm/sec maximum
Maximum (vertical) travel of bath table: 19 mm
Cutting head advance speed

Minimum: -2.0 mm/sec (-1.00 during slicing)
Maximum: +2.0 mm/sec (+1.00 during slicing)

Cutting head retraction speed: 2.0 mm/sec
Maximum travel of cutting head: 40 mm
Blade oscillation frequency

Minimum: 50 Hz
Maximum: 80 Hz (amplitude dependent)

Frequency step size: 5 Hz
Blade oscillation amplitude

Minimum: 0.5 mm (nominal)
Maximum: 1.5 mm (nominal)

Amplitude step size: 0.5 mm (nominal)
Power requirements (Selectable): 115VAC 60Hz, 230VAC 50Hz
Power rating: 100W
Fuse rating

115V: T2A 250VAC
230V: T2A 250VAC

Light source: Powered from 5100mz
Dimensions: 350mm Width x 450mm Depth x 350mm Height (excluding magnifier/light source)
Weight: 15kg (excluding magnifier)
Downloads
Product Manuals
Accessories
PRODUCT SEARCH
LOGIN