MOUSE CNOR-OL EXPERIMENT AND HOLDING CHAMBER
Model CI.80514M-1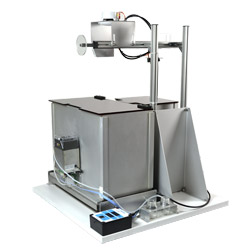 DESCRIPTION
Mouse cNOR-OL Experiment and Holding Chamber allows choice of Floor type and Gate type. Additional options of scoring camera and food reward dispenser are also available.
A budget-friendly manual chamber provides an entry level for both cNOR/OL. No PC required, just plug the USB scoring chamber into your laptop and the scoring app will be triggered by the opening of the gate.
FEATURES
High statistical power
Reduced animal usage
Manual Chamber and Gate
Multiple chambers with auto-gate
Auto-habituation
Multiple trials per session
Change testing context using optional tactile floors
Video scoring app
Exploration latency
New windows into neural mechanisms
SCIENCE
Key Publications
Ennaceur & Delacour 1988 (Object preference)
Ennaceur & Meliani 1992 (Memory for location)
Ennaceur & Aggleton 1997 (Prh lesions in spatial and NOR)
Dix & Aggleton 1999 (Object-location)
Dix & Aggleton 1999 (Object-context)
Easton, Eacott, Zinkivskay 2005; Eacott & Norman 2004 (Combinations, Episodic memory)
Eacott & Gaffan 2005; Easton & Eacott 2010 (Variety of different memories, dissociation of underlying mechanisms)
Varghese, Brett, Harland, Van-Nobelen & John Dalrymple-Alford, 2009 Episodic memory, odour context
Davies, Easton, Eacott, Gigg 2013 Episodic memory for WWW & Episodic memory & Alzheimer's-like pathology
Continual Trials NOR & OL
Ameen-Ali, Easton & Eacott 2012 (rats)
Ameen-Ali et al 2015 (improved reliability & interpretation)
Seel, Eacott, Langston & Easton 2017 (rats)
Continual Trials 2018-2019 Papers
Chan, M, Austen, J. M., Eacott, M. J., Easton, A. & Sanderson, D. J. (2019). The NMDA receptor antagonist MK-801 fails to impair long-term recognition memory in mice when the state-dependency of memory is controlled. Neurobiology of Learning and Memory 161: 57-62. -

Abstract

Cholinergic input to the hippocampus is not required for a model of episodic memory in the rat, even with multiple consecutive events. Behavioural Brain Research, Volume 354, Pages 48-54 15 November 2018, S. V. Seel, M. J. Eacott, R. F. Langston, A. Easton Behavioural Brain Research 354: 48-54. -

Abstract

Continual Trials Spontaneous Recognition Tasks in Mice: Reducing Animal Numbers and Improving Our Understanding of the Mechanisms Underlying Memory. Frontiers In Behavioural Neuroscience 13 September 2018, Chan, Eacott, Sanderson, Wang, Sun & Easton Frontiers in Behavioral Neuroscience 12: 214. -

Abstract
Related papers on Recognition and Episodic Memory
OPTIONAL ACCESSORIES
CNOR-OL MOUSE CAMERA MOUNT

Model CI.80514M-6
cNOR-OL Mouse camera mount sub-assembly with speaker for white noise.
MOUSE CNOR-OL EXPERIMENT CHAMBER SLIDING FLOOR

Model CI.80514M-3
Mouse cNOR-OL Experiment chamber sliding floor with magnetic mounting for changing context floors.
MOUSE CNOR-OL AUTO-GATE

Model CI.80514M-5
Mouse cNOR-OL auto-gate, with 'E' and 'H' chamber photobeams, recording direction of travel and camera trigger.
MOUSE CNOR-OL EXPERIMENT CHAMBER FIXED FLOOR

Model CI.80514M-2
N/A
MOUSE CNOR-OL MANUAL GATE

Model CI.80514M-4
Mouse cNOR-OL manual gate with microswitch for camera trigger.
MOUSE CNOR-OL EXPERIMENT CHAMBER CONTEXT CHANGE FLOORS

Model CI.80514M-3-5
Five context change floors of different textures for Mouse cNOR-OL Experiment chamber. Enables the chamber to be used for the "What-Where-Which" Task for Episodic Memory.
LIQUID FEEDER, REWARD TROUGH AND MOUNTING BRACKET FOR MOUSE CNOR-OL CHAMBER

Model CI.80514M-L0.5
N/A
Copyright © 2009 - 2020 Campden Instruments LTD. All Rights Reserved.