BLOOD PRESSURE DATA COLLECTION SOFTWARE FOR MICE AND RATS
Model I-31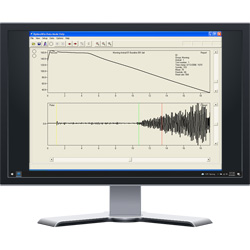 DESCRIPTION
The software records, analyzes, and reports the data from any one of IITC NIBP amplifiers. The software replaces the a chart recorder. The final data is sent from the amplifier to the software program. The end-point selection is automatic for Systolic, Mean, Heart Rate while the Diastolic values are automatically computed. The user is always in the position to override the automatic process by the click of a mouse. Data can be saved, ignored or deleted at the operator's discretion. Any test can be recalled, displayed, printed, and modified as needed.
The Model 31 software supplies ID number, Animal number, test number, date, time, Systolic, Mean, Diastolic and heart rate, and Calibration is a breeze. The IITC Model 31 software can be used with manual, semi-automatic, or fully automatic noninvasive blood pressure systems.
The Model 31 software has the IITC built-in artifact filter and has user select frequency range's. A detailed report can be printed or imported into a spreadsheet at the end of a test. (Example: Lotus, Excel). Software and analog to digital converter supplied. The Model 31 software can control the cuff pump (Model 20-NW) and recognizes the animals number from the Scanner (Model 65-12).
Copyright © 2009 - 2020 Campden Instruments LTD. All Rights Reserved.