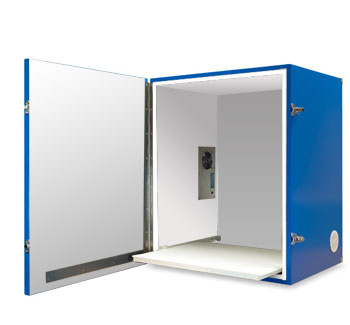 Model 4120-4 Isolation Chamber
4120 SERIES ISOLATION CHAMBER
Designed in consultation with the Institute of Sound and Vibration University of Derby England, this Isolation Chamber provides a controlled environment for sound, light, and electromagnetic interference.
Available in 7 standard sizes, our chambers are coated to resist corrosion and are fitted with a panel mounted ventilation fan and air inlet with cable entry points. Custom sizes are also available with a design charge.
Ergonomically designed for ease of animal handling and welfare with a ventilation fan and optional rolling shelf, these chambers can be configured with a house light, speaker, and camera observation/recording system that uses visual or IR illumination.
Audible transmission measurements were performed on sound pressure z-scale. Attenuation level ensures that sound between chambers is attenuated to around 35 dB which approximates to the background noise in a quiet room. In this scenario animals in adjoining chambers will not hear sound stimulus to a significant level, where tone is between 250Hz to 5KHz and 100dB. Additional baffles can add 5-10 dB of further attenuation and also eliminate light ingress at the ventilation apertures. All sound attenuation levels are frequency dependent.
STANDARD
MODEL

DIMENSIONS*

4120-1

390 x 410 x 350mm

4120-2

520 x 430 x 410mm

4120-3

505 x 440 x 485mm

4120-4

540 x 440 x 610mm

4120-5

660 x 370 x 400mm

4120-6

790 x 420 x 555mm

4120-7

540 x 440 x 670mm
ELECTROMAGNETIC
MODEL

DIMENSIONS*

4120-1E

390 x 410 x 350mm

4120-2E

520 x 430 x 410mm

4120-3E

505 x 440 x 485mm

4120-4E

540 x 440 x 610mm

4120-5E

660 x 370 x 400mm

4120-6E

790 x 420 x 555mm

4120-7E

540 x 440 x 670mm
*Indicates given dimension is the internal measurement