RELATED CATEGORIES
Activity > Rodent Wheel Activity Monitoring > Rat Wheels and Accessories

LIVING CHAMBER FOR 80850 ACTIVITY WHEEL
Model 80852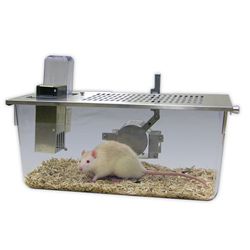 DETAILS
The 80852 Clear Polycarbonate Living Chamber is suitable for both the 80850 AWM and 80850S Scurry Series wheels. It attaches to the activity wheel with convenient thumb screws to provide easy movement between the home environment and the running wheel. The chamber includes a food hopper, water bottle holder, bottle, and stainless steel sipper tube. A manual guillotine door at the tub side of the stainless steel tunnel may be used to restrict animal movement when needed. The size of this chamber allows it to be home for the animal.

Living Chamber with Lid Removed
SPECIFICATIONS
Cage Size: 19" x 10.5" x 8" (48.3 x 26.7 x 20.3 cm)
Floor Area: 143 sq. in. (922.3 cm sq.)
Tunnel Access Diameter: 3.0" (7.62 cm)
Tunnel Floor: 2.25"L x 3.375"W (5.72 x 8.5725 cm)
DOWNLOADS
PRODUCT MANUALS
RELATED PRODUCTS

Living Chamber for 80850L Activity Wheel
Model 80852L
This clear polycarbonate living chamber is identical except that the tunnel opening and tunnel have been increased in size 56.25% (3.0 to 3.75 inches diameter) to accommodate a larger animal.
PRODUCT SEARCH