DETAILS
The Wireless Head-Stage System is a 4, 8, 16, or 32-channel wireless system including a head-stage, receiver, unit and PC interface. Data is digitized at the head-stage and acquired real time. Using high speed USB connections from computer to each chamber means no additional 19 inch rack of electronics is required. With 16 bit resolution and low baseline noise, data accuracy is guaranteed.
With its excellent signal-to-noise ratio, it is the ideal solution for spikes, LFP, EEG, ECG, EMG, and ECoG. Additional inputs to the interface board allow the synchronization of the data with external devices.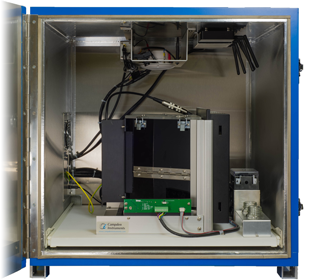 Chamber with Wireless Head-Stage System
The head-stage is easily removable allowing animals to be group-housed in-between trials. This is important for maintaining well-being and motivation for some of the most demanding Paradigms and Tasks on the Bussey-Saksida touch screens, 5/9 hole chambers, and other operant environments.
Video data is time-stamped and integrated with the electrophysiology data, at the point of acquisition (i.e. within the operant isolation chamber).
Scroll, Play and Pause though each of the quad video files to select the episodes of interest, then "time sync" and correlate to the electrophysiological signal and the events and latencies of the operant/touch screen chamber.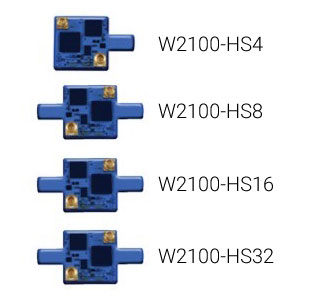 Wireless Head-Stages
The great value of this system is the ease of use and productivity that can be achieved with integrated software and "turn-key" hardware. It is also a low cost solution; no large and expensive motorized tether is required due to the digitizing and multiplexing at the head-stage and the observational video uses an inexpensive analog camera. For tracking of behaviors using a digital camera, see Cine-Lab system in touch screen chambers
Electrode interface boards and a wide range of electrodes, skull screw, twisted pairs, tetrodes and high density silicon probes (Atlas and Neuronexus) are readily available.
Electrophysiology starts with clean signals
Remove the EMI emissions at source
Remove the EMI susceptibility by digitization on the head-stage
Reduce the EMG artifact with the lightweight head-stage
32kHz sample rate on all channels up to a maximum of 128 Stimulus channels available