DETAILS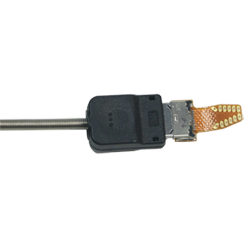 Low-channel (up to 16) headstages are easily removable from the Electrode Interface Board (EIB) for use across different animals.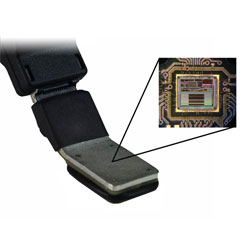 32 channel fitted with zif electrode interface board, high channel headstages (32 and above) remain on the head, minimizing the size and number of connectors.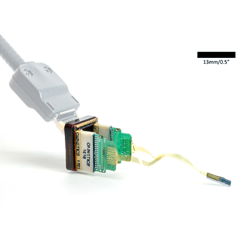 64 channel shown with electrode. Headstage can be Integrated with Janelia Microdrive with total access.

See in action
The great value of this system is the ease of use and increased productivity that can be achieved with integrated software and "turn-key" hardware. It is also a low cost solution; no large and expensive motorized tether is required due to the digitizing and multiplexing at the head-stage and the observational video uses an inexpensive analog camera, with time-stamped video.
Scroll, Play and Pause though each of the quad video files to select the episodes of interest, then "time sync" and correlate to the electrophysiological signal and the events and latencies of the operant/touch screen chamber.
A freely moving, unencumbered animal is of key importance to operation of the touchscreen tasks. Using Campden's unique headstage and tether system, high channel counts are now possible with headstage of only a few grams weight.
A carefully engineered combination of ultra-low torque commutator, ultra-flexible tether armoured against bite, with strain relief on the Kevlar line and the 4N connector. Our unique auto-retract tether and the ultra-low weight digital and multiplexed headstage allows animals to naturally rear, bend and groom (see our lab video with a 16 channel headstage).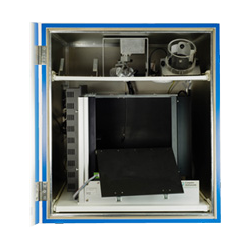 Bussey-Saksida Touch Screen Chamber with Tethered Headstage with Faraday cage with EMI eliminated at source.
The tethered system can be configured over 4 chambers or 1 chamber up to 128ch and 32kHz each and can also include additional lines for stimulus or tracking LEDs. The system digitizes and multiplexes signals at the head-stage (128 channels using just 10 wires or 18 when including additional lines) with no requirement for an expensive and bulky motorized commutator. Small and low torque, Dragonfly commutators are integrated into the sound attenuation chamber. These can be customized to have the torque and strength appropriate for any given species and animal weight. The EIB's and high channel head-stages can be used with our specially designed protection cap to allow animals to be group-housed. This is important for maintaining well-being and motivation for some of the most demanding Paradigms and Tasks on the Bussey-Saksida touch screens, 5/9 hole chambers, and other operant environments. We can make EIB's to accommodate your chosen probes.
Using high speed USB connections from each chamber to the control computer means no requirement for an additional 19 inch rack of electronics. With 16 bit resolution and low baseline noise, data accuracy is guaranteed.
Video data is time-stamped with the electrophysiology data, at the point of acquisition (i.e. within the operant isolation chamber). The Video/Abet/Electrophysiological data is automatically in the OEM Analyzer software for export for further analysis For tracking of behaviors using a digital camera, see Cine-Lab system in touch screen chambers.