DETAILS
In our Behavior Integrated Electrophysiology systems, the MCS Suite OEM Electrophysiology resides on the Electrophysiology PC along with the embedded Quad Video application software. The video can be viewed as part of the MCS Analyzer and can be dragged to and from a third screen, where all four chambers can be observed together.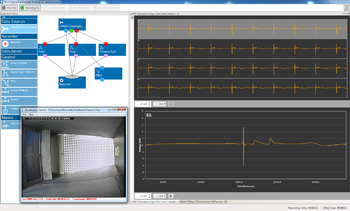 Experimenter Software
MCS Experimenter and Video Application
The MCS Experimenter Enhanced Edition is an easy to use Electrophysiological recording system with several features to assist the inexperienced In-Vivo Electrophysiologist. Experimental design is easy and flexible with drag and drop functionality of virtual instruments. Virtual Instruments can be linked individually or stacked to create an "Experiment Web", allowing you to record a variety of data streams including raw data, filtered data, digital events, and detected spikes.
In addition to controlling the recording head stage, the program allows you to define the settings of the stimulus generator (if present) and generate Experiment Webs based on the pre-installed experiment results in automatic initiation of Recording of both the Video Module and Electrophysiological data allowing for automatic alignment in the MCS Analyzer Enhanced Edition.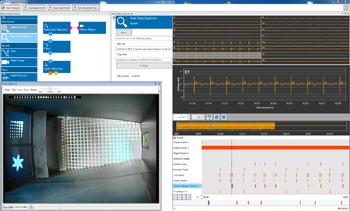 Analyzer Software
MCS Analyzer
The MCS Analyzer Enhanced Edition allows for automatic temporal alignment of Electrophysiological, Behavioral and Video data with no unnecessary user input correction factors or programming knowledge. This is due to the common "clock signal" shared by all three data streams. Events and latencies of specific interest can be selected by programming the "Data Analysis Sets" within the ABET software and these can then be aligned with the electrophysiology data. However unlike a "hard written" TTL pulse event the ABET file can be reanalyzed and the new file aligned again with the original Electrophysiology Data to allow for Data Mining.
The Video Data is also accurately temporally aligned and can be marked by the user to highlight moments of interest as events for viewing in the combined Electrophysiology and Event Viewer. The aligned Events and Electrophysiological data can then be exported for further analysis.
MCS Data Manager
This Export tool allows "one click" export of Electrophysiological Data, generated by the Experimenter OEM package into a wide range of formats including: HDF5, NEF, SMR and ASCII. These formats allow easy Import into 3rd Party Analysis packages for further analysis of the electrophysiological data such as Spike sorting, PCA, etc.