CHAMBER INTERFACE FOR 3RD PARTY ELECTROPHYSIOLOGY SYSTEMS
Model 81425EA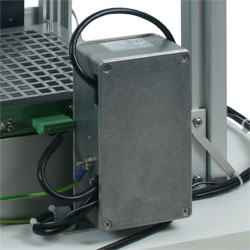 DESCRIPTION
The Campden Instruments 81425EA chamber interface module interfaces to the Lafayette Instrument ABET II operant controller or the Campden 81426 operant controller to the operant equipment. The unit includes white noise and tone generation as standard and gives screw terminal access to the control I/O lines and power supply. The unit provides eight isolated outputs for connection to equipment requiring low voltage, electrically isolated control/ timing signals. The unit also provides two electrically isolated TTL compatible input lines.
SPECIFICATIONS
Camera power supply 12VDC, 150mA
Standard inputs: 8 lines through connection to PC interface model 81426A
Standard outputs: 15 lines through connection to PC interface model 81426A
TTL level outputs, with optical isolation: 4 lines, increased to 8 lines with expander model 81426A-1
TTL level inputs, with optical isolation: 2 lines
Internal noise generator: Digitally generated white noise output and 7 tones
2 internal amplifiers
2 Switching relays
Copyright © 2009 - 2020 Campden Instruments LTD. All Rights Reserved.