INTEGRATED...NOT MERELY LINKED
"...overarching vision is to combine these approaches into a single, integrated science of cells, circuits, brain and behavior..."
-NIH Report April 2013
System Advantages
BEHAVIOR
Starts with the animal
Flexible lightweight bite-proof tether
Lightweight ergonomic head-stage
Tether auto tensioner
Freely moving animals
Unique Headstage allows Group housing of animals
Easy insert positive engagement connector
ELECTROPHYSIOLOGY
Incorporates electronically clean signals
Removes the EMI emissions at source
Removes the EMI susceptibility by digitization on the head-stage
Shielded tether line
Reduces the EMG artifacts with the lightweight head-stage
32kHz sample rate across up to 128 channels
Stimulus channels available
ANALYSIS
Reduce the complexity
Saves time, energy and therefore in cost
Time saved = faster output of data and publications
EMI-Shielded Touch Screens and Chambers
Nothing can substitute for a clean signal.
Emissions, inside (electronics) and outside (Faraday Cage)
Susceptibility, digitization of electrophysiological signals at source
Proximity, shielded touch-screen
Fully grounded via system connections
Click Chart for Larger View
System Time Stamp
The Time Stamp is encoded on both the electrophysiological data and the start of each video frame immediately after the point of acquisition. Data and video are now time-linked together at the source as the behavioral experiment master computer provides the start and stop signals. During analysis, the behavioral data is imported and synchronized with the electrophysiological data/video timeline.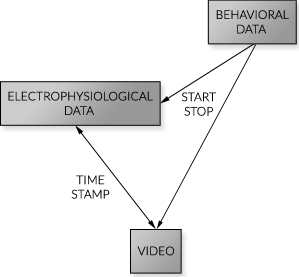 Acquisition Model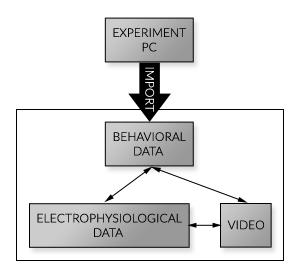 Analysis Model
Headstages
Our headstages are all uniquely designed to allow the most animal mobility and highest data quality for a low cost. All data is digital and multiplexed at the headstage level.
TETHERED
32kHz sampling rate per channel
Lightweight: 2.23g
Specially designed to be resistant to bites and interference
Automatically retracts
WIRELESS
20-40kHz sampling rate per channel
Wide effective recording range (5 m)
Lightweight: 1.9-3.7g (not including battery)
Paradigms
All Touch Screen Paradigms were created using our ABET II Touch Software and are now available with video observation and a time stamp.
Prewritten standard paradigms available with established neuro-pathological relevance (PAL, PD, 5CSRT, and more!)
Tasks translate directly to validated monkey and human touch models e.g. CANTAB
Published use in psychological and pharmaceutical research journals
Bring animals to criteria in just a few weeks or even days
Visit our Bussey-Saksida Touch Screen Tasks and Paradigms area for specific information on available paradigms
Model of Rat PAL Paradigm