DETAILS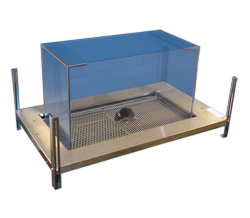 Use the open Place Preference Chamber, the Model HLIC2000F1 Grid Rod Floor, the Model HLIC2000F2 Perforated SS Floor or other floors custom made by Lafayette Instrument company inside the Model HSFCRHD Cage Rack Activity frame with the HBSC100 Interface and the H2050-0024 MotorMonitor II™ software for bias free monitoring of place preference in a two choice environment. The clear enclosure is open on top except for two small braces. An optional cover (HLIC2000L) is available. This unit does not include floors. All floors sold separately.
The complete package is modeled after a design used extensively for over 15 years. The advantage of this design over others is the elimination of pre-conditioning bias and the ease at which animals can be conditioned. Units should be ordered in pairs, otherwise extra floors are needed. With a pair of chambers, half the animals can be trained on one floor and half on the other. During testing the floors are split between the two chambers. Complete activity data can be collected during both training and testing sessions.
REFERENCES
Cunningham CL (1995) Localization of genes influencing ethanol induced conditioned place preference and locomotor activity in BXD recombinant inbred mice. Psychopharmacology 120:28-41.
Cunningham CL, Prather LK (1992) Conditioning trial duration affects ethanol-induced conditioned place preference in mice. Anim Learn Behav 20:187-194.
Cunningham CL, Okorn DM, Howard CE (1997) Interstimulus interval determines whether ethanol produces conditioned place preference or aversion in mice. Anim Learn Behav 25:31-42.
Cunningham CL, Ferree NK, Howard MA (2003) Apparatus bias and place conditioning with ethanol in mice. Psychopharmacology 170:409-422.
Cunningham, C.L., Gremel, C.M. & Groblewski, P.A. (2006) Drug-induced conditioned place preference and aversion in mice. Nat. Protoc., 1,1662-1670.
Chester JA, Cunningham CL (1998) Modulation of Corticosterone Does Not affect the Acquisition or Expression of Ethanol-Induced Conditioned Place Preference in DBS/2J Mice. Pharmacology Biochemistry and Behavior 59:67-75.
Grahame NJ, Chester JA, Rodd-Henricks K, Li TK, Lumeng L (2001) Pharmacology Biochemistry and Behavior 68:805-814.