DETAILS
The place preference insert for the Cage Rack Activity Frame is composed of several components that are difficult to see in the product photo.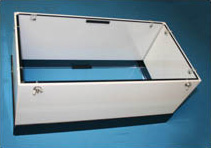 The dual wall enclosure is pictured here with the top removed. The inside is clear and the outside opaque. Leave the outside walls off if you want a clear chamber. Add vertical or horizontal stripes, other patterns or solid black to the outside of the clear wall, replace the white wall, and the animal environment is changed. Almost any material may be used since it does not come in contact with the animal or the outside. Note the black band around the bottom is I/R trasparent black plastic to permit tracking the animal on both the x & y axis with the HSFCRHD Photo Beam Frame.
A middle insert is provided with manual doors to habituate the mouse prior to starting the test. This component is also made of black I/R transparent plastic.
The top is removable and features three extremely bright LED clusters. Individual light intensity controls are provided for a range of brightness not found in any other system.
Removable floors are also provided that offer three textures: studded, rippled and smooth.
SPECIFICATIONS
End Chambers: 8" H x 6 5/8" L x 8 5/16" W (20.32 x 16.82 x 21.11 cm)
Middle chamber: 8" H x 2 1/2" L x 7 x 9/16" W (20.32 x 6.35 x 19.21 cm)
Door hole dimensions: 3 3/4" H x 2 3/8" W (9.525 x 6.03 cm)
Ceiling Lights: Variable Intensity LED Arrays above each chamber
Max Brightness: 1800 Lux
Floor Inserts: Two of each type of texure. Both can be turned upside down to give you a smooth surface, giving you three choices.